Today I received an unexpected prize of four packs of Elegant Touch Flawless French Manicure Kits from Superdrugs Dare Magazine.
Yesterday I just so happen to have showed you my little French manicure that I done using a varnish kit from Poundland. Now, at the time I was very proud of this, but after seeing the results of this new product, that doesn't come anywhere close to be being as good as this!
This is the result of me using the Elegant Touch Flawless French Manicure Kit:
Notice how straight the white line tips are! My nails aren't even very long, but they instantly look longer and more glamorous. They are not actually extensions or false nails. They are totally my real nail, but the white is just an added tip. However, they don't add any length, you just glue them to the top of your natural finger nail.
The kit comes with 56 nail tips, brush superglue, a mini nail file, a base coat varnish and a top coat. This kit is so easy to use, and the base and top coat varnishes dry very quickly. The super glue is also really strong and long lasting, and they are expected to last for up to 7 days! They're available in 3 lengths, short, medium and long. I used the short tip. I have only been wearing them for a day so far, but I have washed my hair while wearing them with no problem. They haven't fallen off, peeled or come loose. Perfect solution for perfect french manicured nails at home.
"Elegant Touch have launched their new flawless French manicure kit, a professional, Parisian like result which can be done at home by yourself!"
The kit will cost £14.95, and there are enough nail tips in each pack for 4 applications. This product should be available from 20th June (I am excited to have been a first to try this!) and it is exclusively from Superdrug.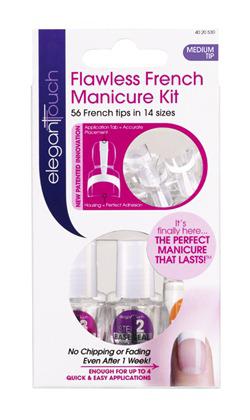 Here is a step by step guide on how to use this great new product (me doing it for my Mum!):
Mums fingernails before:
Put superglue onto the white tip and press against the nail
Remove plastic casing and the white tip should have stuck:
File down each nail so that the tip is smooth and the same length as your natural nail. Then coat with the base seal:
Then apply 2 coats of the top seal.. and ta da!! Perfect French manicured nails 🙂
I thoroughly recommend this product, and I suggest that when this goes on sale you try it out!
Twitter
|
Facebook
|
Bloglovin'
|
Instagram