June was another busy but enjoyable month for me! In my last update I mentioned that I had found a property that I wanted to buy and my offer was accepted, but I was just waiting for the mortgage to be approved. Well I'm thrilled to say that my mortgage is now all sorted, the solicitors have been appointed, and I'm pretty close to getting my completion date! So EXCITED! Hopefully next month I will have another update!
The Cath Kidston summer sale started and so of course, I made a couple of purchases! I still have another order on it's way to me, but I just cannot stop buying pretty things for my new home! I love the pretty summery colours and floral print.
Gavin is best man for his friends wedding next week, so I've been busy preparing my outfit! I've bought a lovely floral dress with a dip hem and bardot sleeves, and these pastel blue heels and Katie Loxton clutch bag will match perfectly! I'm also getting gel nails and a spray tan done the night before!
Natwest have finally approved my mortgage! I say finally.. it actually only took them a week from application, but the whole process feels so drawn out! Once it's all finalised (fingers crossed it will all go smoothly!) I will do a blog post with a little timeline of events on how long it took from finding the house until moving in. Hopefully won't be too long now!
I recently spotted these Girls With Attitude palettes on offer in Savers for only £5 each. The Glow it! Highlighting Palette is normally £12, and the Natural Eyeshadow Palette is usually £10. I thought I'd give them a try as they were reduced, although I didn't have very high expectations. But I gave them a try once I got home and they are amazing! The pigmentation is really good and the eyeshadows blend beautifully!
I still can't resist collecting vintage tea cups and china. I have loads and loads of sets, and I even bought this wooden cabinet from a charity shop for only £30 to store them all in! I'm not sure if I'm going to be able to take them all with me to my new place, so I will miss them! I love using them as little planters for cacti.. so cute.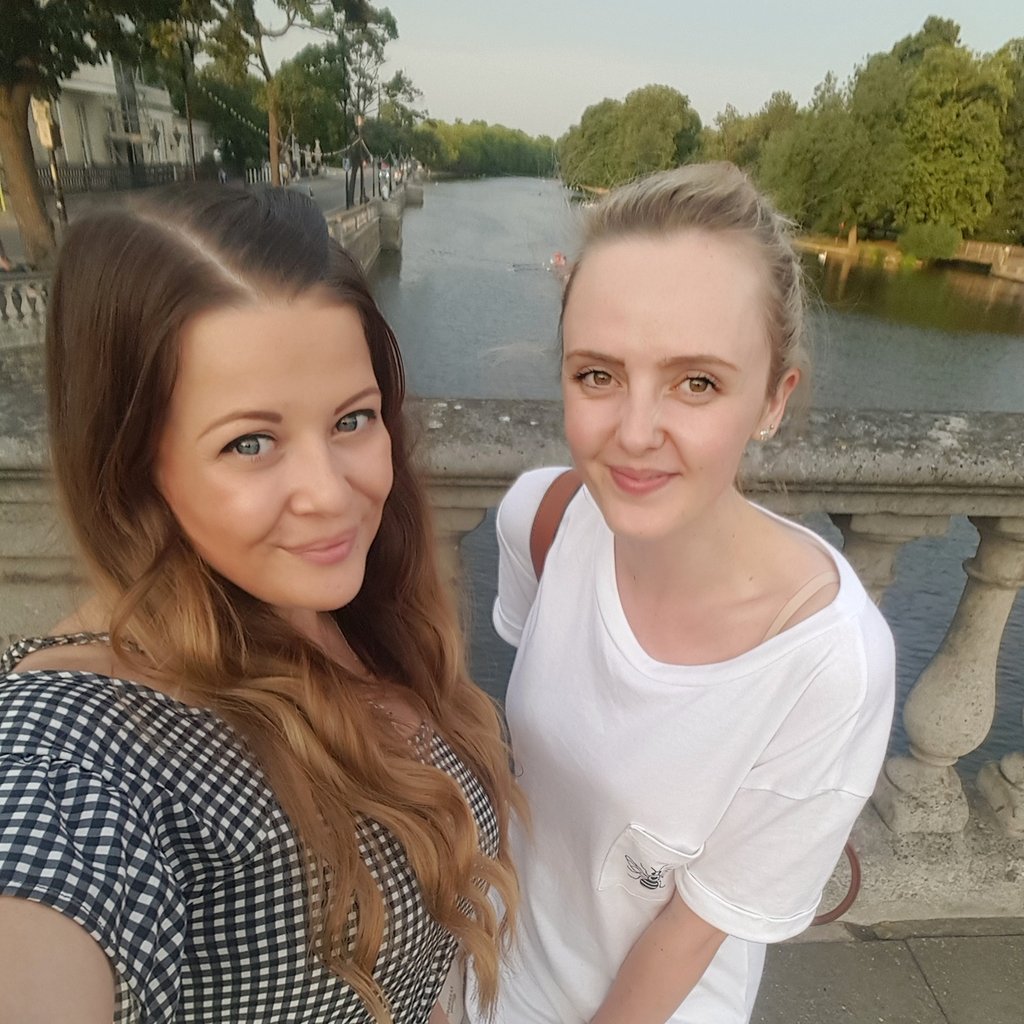 In June I got to meet up with all of my favourite blogger girls! Tereza, Charl, Terri and I recently went to The Restaurant at Broadway Casino in Birmingham for a delicious slap up meal (and wine). I'll do a blog post on this in more detail soon!
I also met up with Issy for a little Nandos catch up as we hadn't seen each other in over a year, despite the fact we used to work together and see each other everyday! I also met up with another ex colleague turned blogger Hazel and we went for a delicious Italian in Milton Keynes.
A recent dinner at Stonehouse restaurant led to me having a delicious goats cheese, red onion and spinach pizza, washed down with this amazing freakshake! It was chocolate sauce with milk, ice cream, a cookie, brownie, and whipped cream. It was pretty tasty except for the actual milky bit which was literally just milk with lumps of ice in.. weird. They also do a frozen rosé wine 'frosé' which looks very tempting!
I also attended my first proper carboot sale of the year! My little local one is quite small but you can often find some treasures. I managed to get this little wooden make up box for 50p (which I plan to prettify), a floral blouse for £1, brand new Eylure lashes for 50p each, pretty floral Waitrose plates for £2, and a few cosmetic bits for 30p each including a brand new Caudalie Divine Oil which has an RRP of £10!
It was my boyfriend Gavin's birthday in June, and we had the most wonderful weekend, although unfortunately it was so busy I didn't actually get to take many photos! On the Friday night I treated him to dinner at Miller and Carter steakhouse in Wheathampstead which was amazing. I'd love to go back again!
On the Saturday we visited his family and had a BBQ and drinks with his friends, and then on the Sunday I surprised him with Thorpe Park tickets! I'd never been before as I don't like roller-coasters, but we actually both had a really nice day. The weather was beautiful and we were lucky that there were hardly any queues for the rides. I even went on The Swarm roller-coaster! Mainly only because You Me At Six did the theme song for Thorpe Park…
 I I was invited to the relaunch of burger restaurant Meatcure in Bedford recently and popped along with (another!) old colleague Emma. We'd been once before and we loved their milkshakes, so we were excited to visit again. We were expecting maybe a couple of little sliders but we were very pleased to be presented with as many full-sized burgers as we could eat! I managed 3 and a half….
We were welcomed with a glass of prosecco as well as a bottle of Vedett beer each which had a printed photo of our faces on! The whole vibe in Meatcure is pretty chilled and it has a nice relaxed atmosphere. They have a nice straight-forward menu with no fuss or frilly bits. Just delicious burgers!
I tried the Royale (beef burger with cheese), Smokey and the Bandit (topped with bacon and BBQ sauce), Field of Dreams (portobello mushrooms and halloumi), and Colonel Parkers Tribute (their chicken burger). Delicious! I'll definitely be back!
Over the last year or so I have absolutely fallen in love with the Nissa Figaro! It looks like a classic car, but it was actually produced in the early nineties so it's not as old as it looks. It comes in gorgeous pastel tones: mint green, pretty pink, baby blue, and light grey. Aren't they gorgeous? These are a couple that I've spotted out and about recently!
I really want one but my Dad insists that they're rust buckets and too expensive to insure. Unfortunately as it can't really be used as an everyday car, I'd have to keep it somewhere safe most of the time, and my new place doesn't have a private driveway 🙁 one day though!
Twitter
|
Facebook
|
Bloglovin'
|
Instagram