Earlier this year I did a blog post which included some
top SEO tips for bloggers
and as it was so well received, I thought I'd do a new similar post! I've been working as an SEO Executive for a digital marketing agency for the last 7 months and during that time I feel like I've learnt new things which I find useful for my own blog. So here are some free SEO tools for bloggers which you might find useful too!
Free SEO Tools for Bloggers
Blog Statistics –
The most accurate tool to track page views that I've found is StatCounter. It's free and much easier to use than Google Analytics. It produces really simple graphs which show you which of your blog posts are most popular, where the visitor came from/how they found you, and which links on your blog are clicked most often.
It also includes interesting stats on which countries/cities people visit from, and whether they are reading on a PC or mobile device. It's a really useful tool to find out more about your audience and discover what type of content is most popular.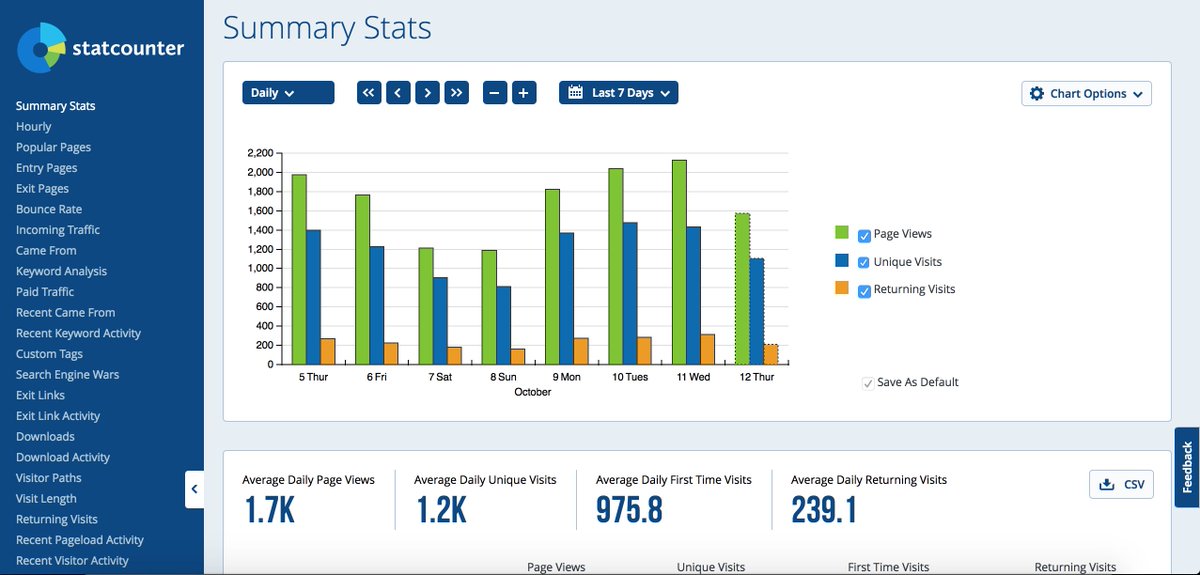 Blog Widgets –
Not exactly SEO related but if you use blogger, then I suggest using the widgets sparingly, as most are useless! But one that I suggest that everyone uses is LinkWithin; an easy to install widget that appears under each blog post, which suggests related blog posts for the visitor to read. This means that the reader will spend longer on your blog and will have a better user experience enjoying your other posts too!
Organic Search –
A great way to see how your blog is performing is to throw it into SEM Rush (you can register for free for a basic version). SEM Rush is a tool used by most people in SEO and digital marketing to track how well a website is performing.
The Domain Overview page (make sure you click UK at the top for most relevant stats) shows you the 'organic search figure' which is the average monthly number of visitors to your blog gained 'organically' from search engines based on the keywords found for your blog.
That might sound complicated, but basically the higher the figure, the more people are finding your blog through Google, which is good! In the example below, approximately 540 people per month find my blog from search engines when searching for specific keywords related to my blog.
Top Keywords –
If you want to know what SEM Rush thinks your keywords are, you can click Organic Research on the left hand side, and then Positions. This shows you some (the free version only shows 10!) of your top keywords. This means that when someone searches for that particular keyword on Google, your blog will show up in the position in the second column.
For example, if you search Milton Keynes blog, I should show up as the fifth search result! Although this all changes everyday so you can check back on it every so often to see if anything has moved. The data also may not match if you actually Google the keywords yourself, as Google is clever and will rank your blog higher because you've visited that site before and it can tell it's more likely to be relevant to you.
You can use this keyword info to 'optimize' your blog. For example, I currently rank number three for 'benefit skincare review' because I have used those exact keywords throughout the blog post (which you can see here) as well as in the image alt text, the blog title, heading, and meta description. SEM Rush does loads of other stuff too, but that's basically what I use it for.
Find your Domain Authority (DA) –
You may sometimes see on Twitter (under #bloggersrequired or #bloggerswanted hashtags) or Facebook (in the blogger opportunity groups) that PR's sometimes mention 'DA'. This stands for Domain Authority which is a search engine ranking score that predicts how well a website will rank on search engine result pages. You can find your Domain Authority score by checking on the MOZ Open Site Explorer.
Your score is based on the number of external backlinks and the quality and relevance of these links, as well as great content. A high Domain Authority score means your blog has the potential to rank well in search engine results, and this is why brands sometimes look for a certain score when working with bloggers.
Moz can also show you which other websites are linking to your blog (backlinks) but with a free version, it will only show you a limited amount.
Keyword Rank Checker –
If you want to see where you blog is ranking for a specific keyword, or if you want to see what other websites are ranking for it, you can use the SERPs free keyword rank checker. Just enter the keyword, your blog URL (if you want to see where you rank) and then change the search engine location to UK.
Bare in mind, sometimes these results do differ to those on SEM Rush slightly, I feel like these results are more accurate. For example, SEM Rush says I'm ranked number one for 'vintage blog' whereas SERP's Keyword Rank Checker says I'm number two! You can use this to see how your blog compares against your competitors and perhaps try to improve posts so that you rank higher.
Full SEO Checker –
I always enjoy using SEO checkers because they give a full overview of what can be improved on your blog. I generally use a few different ones as they pick up on different things, and then I go through each point to see if I can fix the issue. Don't worry.. it will always come up with errors, and you can't fix everything it flags up! It tells you things about site speed, mobile friendlyness, your meta description, headings etc.
Recommended sites include:
Check Your Broken Links –
I've been writing my blog for over 6 years now, which means that a lot of the websites that I've linked to in the past are no longer active. Google sees websites with broken links (404's) as bad as it doesn't give a good user experience. Therefore you should try and remove as many of the broken links on your blog as possible, although it's not vital.
A tool I use to find these broken links is Broken Link Check. It's an annoying and time consuming task, but it's worth doing to ensure you have a nice clean blog that your readers can navigate seamlessly.
Sometimes the broken links are actually other bloggers that have left you comments in the past who have now stopped blogging and their link is no longer active. You would have to delete the comment to remove the broken link, but I seem to have so many that I've just left any that are in old comments.
Social Media –
A few tips with regards to social media for bloggers; when you upload images to Instagram, use relevant hashtags to your image to increase visibility. You can use a website like TagsForLikes where you can copy lists of hashtags and then easily paste them onto your image caption.
On Twitter, make sure that you set up Twitter Cards so that when you tweet your blog link, it includes a thumbnail image from your blog as well as the meta description (see below for an example of me tweeting my link). It just makes it nicer to look and and is more likely to catch someone's attention than just a URL in text from. There is a guide to set this up here and here.
And that's pretty much it for now! Don't forget to check out my top SEO tips for bloggers blog post too for more hints and tips!
Twitter
|
Facebook
|
Bloglovin'
|
Instagram